Specialised Lifting Solutions for our Armed Forces
RUD Chains offers bespoke lifting systems, designed for the toughest tests of all, which can save time, money and space in the commercial world.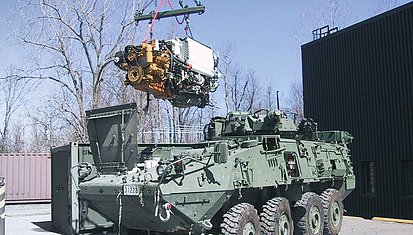 RUD is an expert provider of standard and specialist applications for the defence force. We are proud to be a leading manufacturer of lifting services and endeavour to continue to provide outstanding products and service.
A trusted supplier for the likes of NATO, as well as industrial clients across the globe, RUD Australia is a subsidiary of the German parent company that has a presence in more than 120 countries. The Australian arm has its own engineering and manufacturing facility in Brisbane.
We offer specialised lifting solutions that are modular, cost-effective, and strong. Our lifting devices work in temperatures as low as -60 degrees Centigrade, thanks to tried and trusted technology that is simple by design.
Commitment to safety and excellence
RUD has a continuous focus and ongoing commitment to ensuring the quality of our engineered solutions, manufacturing processes and proof loading facilities align with Defence Force expectations and comply with global and Australian standards.
We also have full certification from ISO, NATA and LEEA, so you know you're in safe hands.
RUD Lifting devices come with a number of benefits, including:
The biggest selection of lashing and lifting points in the world.
Advanced technology helps optimise system weight and balance.
Modular system can be packed into a small space.
Designed for simplicity and safety in the field.
Our systems work in -60 Degrees Centigrade and the heat of the desert sun alike.
Overload indicator that deforms well before the lift itself is damaged.
Safety latches on each hook that are forged.
RUD shortening devices don't reduce the Working Load Limit.
Every single component has its own tracking code and many come with RFID tracking capability.
RUD Lifting systems serve NATO and the UN Peacekeeping forces around the world, as well as commercial clients that range from railyards through to construction, mining and agriculture. On any given day, our chains and lifting systems are hard at work providing maximum safety. They're built for the toughest tests and offer the following advantages:
Near perfect uniform surface hardness, tensile strength and wear resistance.
Maximum safety is a by-product of the tensile strength and characteristics of the metal.
Narrow tolerances, guaranteed symmetrical links and more aid the overall efficiency of any system.
Markings on the chain provide a pre-condition for safety checks and it's easier to see any movement.
All RUD chains are 100% calibrated.
Bespoke sizes are available.
RUD produces the world's smallest and largest industrial and hoist chains: 3 x 9mm and 32 x 90mm
RUD Chains offers bespoke lifting systems, designed for the toughest tests of all, which can save time, money and space in the commercial world.
To find out more about RUD's defence force capabilities, read more here:
https://www.rud.com/fileadmin/user_upload/Australia/RUD_Australia_Defence_Brochure.pdf
Back to the news