A new giant for lifting, driving and conveying loads: RUD Group und Caldwell Inc. channel their market power
Customers in the USA and Canada profit from a complete spectrum of products from a single source, as well as from even more quality, service and customer focus.
RUD Group Sling and Lashing systems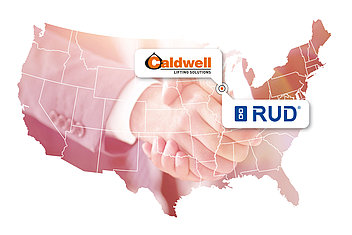 The RUD Group and Caldwell are uniting their market activities on the North American market within a common organisation, with immediate effect. This means that two complementary spe-cialists are joining forces as leaders in the market: With its main development and production facilities in Aalen and its global core markets, the RUD Group offers pioneering solutions for lifting, lashing, conveying, driving and handling loads of various sizes on a worldwide basis. The family business was founded in 1875 and today employs over 1,700 people in its production plants and sales offices in more than 120 countries. The company's portfolio includes mountable sling systems, lashing equipment for securing loads, round steel chains, lifting chains, conveying systems and drive technology (www.rud.com). Within its industry, the RUD Group is recognised as a multiple award-winning innovator, Hidden Champion and global leader in quality and technology. Its future partner, the Caldwell Group, is based in Rockford, Illinois, and has been active since 1954 as an expert in innovative load handling equipment. With nine product lines, the company offers standard and customised solutions for industry – from crane hooks, cross beams, coil lifters and vacuum lifters to special positioning systems for loads (www.caldwellinc.com).
Complete product spectrum
"This collaboration is relevant only for the US market, in the first instance. The alliance provides our customers and business partners in the USA and Canada with a new level of expertise and the incomparably complete product range from Caldwell material handling solutions, Renfroe clamps and RUD lifting and material handling solutions – and all from a single source," explains Jörg Rieger, Managing Partner of the RUD Group. "With this joining of forces, our constant efforts to consistently expand our market position as a leading and innovative system provider of lifting and material handling solutions, from the crane hook to the load, have reached another high point, from which the North American market will benefit immensely."
Positioned for premium quality and service
In addition to this product variety, the bundling of the competencies of both partners promises to further expand the quality leadership for which RUD is renowned. Furthermore, by merging the sales and service teams of the companies, the quality of support for customers and business partners can be greatly intensified and improved, resulting in even closer proximity to the customer.
Geographic amalgamation
The consolidation of expertise and services will be accompanied by a spatial and structural merger: While the previous RUD USA Hiawatha, Iowa, will concentrate on the tyre chain product range with its corresponding product groups, and will be able to improve its quality of customer support as a result of this specialisation, the remaining business divisions will be completely transferred and integrated into the Caldwell Group Inc. premises in Rockford, Illinois, by May 2018. "From now on, customers and partners will find all of their reliable contact persons for Caldwell lifting means, Renfroe clamps, RUD hoist chains, RUD material handling and lifting devices, and TECDOS drive solutions at Caldwell," adds Jörg Rieger.
Perspectives for the European market and the Asia/Pacific region
Although the cooperation between RUD and Caldwell will only be important for the US market at first, the new alliance will also open up wider reaching perspectives. In the medium term, for example, both the European market and the Asia/Pacific region will come into focus – resulting in the optimised adaptation of products and solutions to suit their specific requirements.
About the Caldwell Group, Inc. (USA)
Caldwell was founded in 1954 and is one of the leading and market shaping manufacturers of load handling devic-es in the USA. The employee-owned company puts customer requirements at the top of its list and offers special customised constructions and high-quality, effective solutions for the material handling industry. The lifting equip-ment developed by Caldwell covers a comprehensive range of industry specific products, so that the customer has the flexibility of meeting its particular application requirements with the economic efficiency of a standard product. The Calwell group's engineers also develop innovative solutions that require highly individual designs.
Back to the news