L-VLBG-PLUS Lashing ring metric thread
Spot-on lashing capacity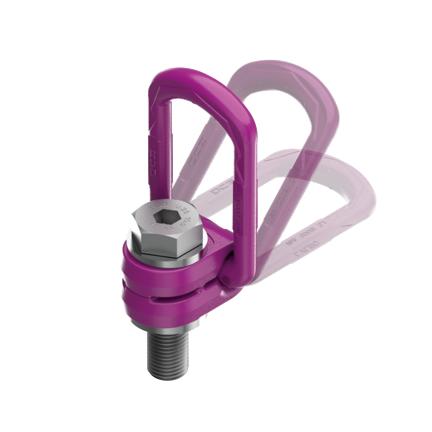 Rotatable through 360°.
Lift bail can be pivoted through 180°.
Clear indication of the lashing capacity in daN.
Original RUD bolts with special corrosion protection Corrud-DT.
Captive yet exchangeable special bolt.
Variable screw lengths available.
Fast and simple installation.
The clamping spring achieves noise reduction and keeps the suspension ring in the desired direction.
Product variants (2)
Technical information
Article number: 7904778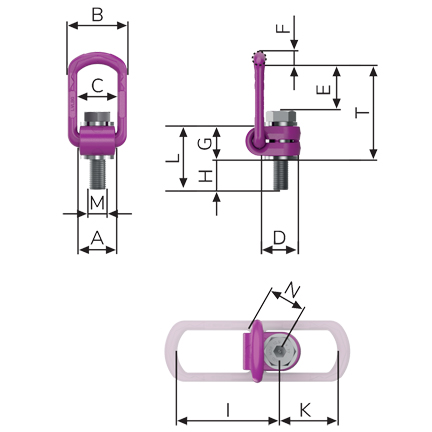 | Attribute | Value | Value |
| --- | --- | --- |
| weight | 6.00 kg | 13.23 lbs |
| T | 197 mm | 7-3/4" |
| A | 77 mm | 3"-1/32" |
| B | 122 mm | 4-13/16" |
| C | 82 mm | 3-1/4" |
| D | 70 mm | 2-3/4" |
| E | 97 mm | 3-13/16" |
| F | 26,5 mm | 1-3/64" |
| G | 77 mm | 3"-1/32" |
| H | 63 mm | 2-15/32" |
| I | 205 mm | 8-1/16" |
| K | 110 mm | 4-11/32" |
| L | 140 mm | 5-1/2" |
| M | M36 mm | M36 |
| N | 87 mm | 3-7/16" |
| Lashing capacity | 16000 daN | |
Downloads of the variant
Technical information
Article number: 8600778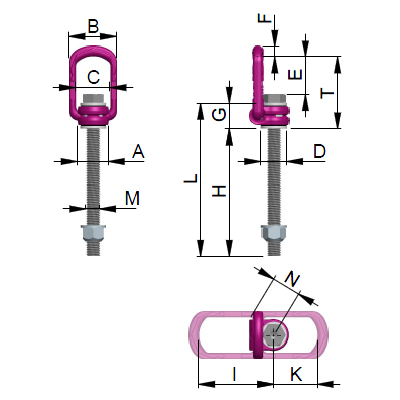 | Attribute | Value | Value |
| --- | --- | --- |
| T | 197 mm | 7-3/4" |
| A | 77 mm | 3"-1/32" |
| B | 122 mm | 4-13/16" |
| C | 82 mm | 3-1/4" |
| D | 70 mm | 2-3/4" |
| E | 97 mm | 3-13/16" |
| F | 26,5 mm | 1-3/64" |
| G | 77 mm | 3"-1/32" |
| H | 36-223 mm | 36-223 |
| I | 205 mm | 8-1/16" |
| K | 110 mm | 4-11/32" |
| L | 113-300 mm | 113-300 |
| M | M36 mm | M36 |
| N | 87 mm | 3-7/16" |
| Lashing capacity | 16000 daN | |
Downloads of the variant
Further information of the product