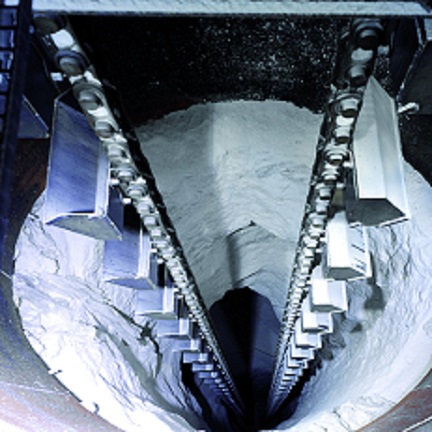 RUD bucket elevators casings are selfsupporting, but they require horizontal guides at least every 15 meters and below the elevator head. The bucket elevator head comprises a lower section with doors to access the adjustable discharge plate, and braced bearing mountings, for the pedestal bearings which support the drive shaft, the shaft exit points use grease filled radial shaft seals.
The upper sections comprise a multipart removable hood with an inspection flap. A drive platform is mounted on the side of the lower part of the head for supporting a wide variety of commercially available drives. If required a maintenance platform and or an overhead support/ service beam can be fitted if required. An elevator drive normally consists of a geared motor unit, which is normally connected to a frequency controller for maintenance purposes. For higher power requirements, we recommend a drive unit with a bevel spur gearbox, and standard motor optionally with auxiliary drive. Starting characteristics can be optimized by a hydraulic clutch or an electric soft start.
Contact:
H & E - Herfurth und Engelke Förderanlagen GmbH
Efeuweg 4
38104 Braunschweig/ Germany
Call +49 531 237290
Fax +49 531 23729-10
E-Mail:  vertrieb@herfurth-engelke.de
Contact
Conveyor & Drives
RUD Ketten - Rieger & Dietz GmbH u. Co. KG
Friedensinsel
73432 Aalen, Germany
Further information of the product
The double or single leg casing is torsionally rigid sheet metal housing, constructed of standard section lengths with flange connectors. The maintenance and assembly door position should preferably be located in the elevators raising casing leg, approximately 0.8 m above a platform.
The elevator boot is optionally designed with either internal, oil-filled bearings or external pedestal bearings. With external bearings, the shaft exit points are sealed by gray cast-iron stuffing boxes. There are large assembly doors and cleaning doors on both sides.
The chain takeup tension is generated by a weight or spring-loaded spindle take-up device. Depending on the type of chain used, RUD driving wheels are either non-toothed chain pulleys with replaceable, highly wear-resistant segments, or toothed sprocket wheels with replaceable, highly wear-resistant teeth.
The RUD return wheels have replaceable, highly wear-resistant segments which in certain designs incorporate guide discs. Buckets are manufactured according to DIN or our works standard. The materials used are steel, stainless steel, or rubber. Buckets are attached by chain shakkles, bolted clamping clips, plug-in attachments or angle brackets.
The chains are either hardened, round link chains to DIN Standard or works standard chain designs made of special, highly wear-resistant alloy steel. Engineering style chains are also used, as either double or single central chains. Standard safety devices such as speed governors and level indicators, to monitor the operating status of the bucket elevator are incorporated.
Additional accessories are available.
RUD Conveyor Systems